Swine flu virus victim, 2, brought for treatment in NI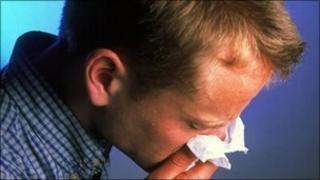 A two-year-old boy from the Irish Republic who died after suffering from swine flu was taken to hospital in NI because it was nearest to his home.
The health minister explained the circumstances during a statement to the assembly on the swine flu outbreak.
The Department of Health has said it cannot give details about whether the child had an underlying condition.
It has been confirmed that a 10-month-old boy who died after suffering from the virus had existing health problems.
Assurance
Nineteen people have now died in NI after suffering from the virus.
Two of those have been confirmed to have had no other health problems.
Vaccines against the virus are currently only available to people in certain at risk groups.
Health Minister Michael McGimpsey assured MLAs that the health service is able to cope with the outbreak.
Despite some criticism from GPs that supplies of the vaccine are low, the Public Health Agency has said that 800,000 doses of both seasonal and swine flu vaccine have been made available - twice the amount used during last year's pandemic.