Northern Ireland Assembly facing £8m building loss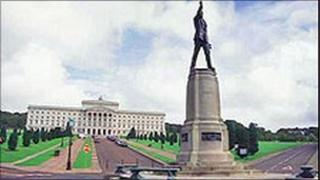 The Northern Ireland Assembly is facing a major loss on a property it bought 10 years ago and has never used.
Ormiston House, a listed 19th century building in east Belfast, cost the Assembly £9m in 2001.
It has now gone on the market with an asking price of just £2.5m.
The expected loss comes to about £8m - as security and maintenance costs have helped push the overall outlay to £10.5m.
Ormiston House was purchased with the aim of providing offices to ease space pressure in the nearby Parliament Buildings.
However, the Assembly came up against planning hurdles for the site, and was unable to secure approvals for proposed office use and apartment developments.
With growing pressure on public funds, the decision has been taken to put it up for sale.
However, a planning application was also submitted last month, involving fresh proposals for apartment blocks.
The goal is to increase the value of the site and make a sale more likely.
An Assembly spokesperson said: "The Assembly has never been in a position to occupy the premises, primarily because previous planning applications submitted by the Assembly Commission have not been determined by the planning authorities."
Uncertainty
A spokesman for the Department of the Environment said there had been "some uncertainty" from the Assembly on its intentions for the site.
He said planners were asked to put on hold earlier applications made in 2001 and 2004.
"The Assembly has recently received a new application for the site and the department may now seek the withdrawal of the earlier applications," he added.
Details of the £10.5m total expenditure on Ormiston have been obtained by BBC Radio Ulster's Stephen Nolan Show under the freedom of information act.
The Assembly bought the property in 2001 for £9m from the Police Authority, the predecessor of the Northern Ireland Policing Board.
Since then, security costs at Ormiston have come to £885,641, while maintenance and running costs added up to £371,379.
Professional fees relating to repairs and maintenance added another £250,015 to the total bill, while a further £212,466 was spent on professional fees for development and planning.