New treatment stopping heart attacks in their tracks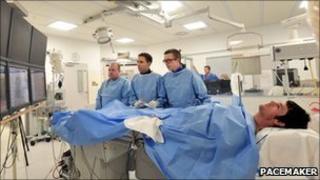 Chest pain, nausea, breathlessness - having a heart attack is one of the most frightening experiences any of us could ever have. Yet nine out of ten patients in Northern Ireland will survive.
Although this statistic sounds reassuring, a revolutionary treatment, piloted in Belfast for the past year, increases the prospect of survival even further.
Primary Percutaneous Coronary Intervention - or Primary PCI for short - has been offered around the clock in the Belfast Trust since December 2009. They are the only hospitals in Northern Ireland to offer the procedure 24/7.
The revolutionary treatment is the subject of a Radio Ulster documentary, Saving Hearts, which airs on Sunday.
Primary PCI treats people with severe heart attacks, where a cardiac artery is completely blocked. The aim is to get the victim's artery reopened within 90 minutes of them first seeking medical help.
The patient is rushed to the cardiac unit, where a catheter is inserted into their right wrist. Through this, a tiny wire is navigated by the cardiologist to the blocked heart artery.
Survival
The wire acts as a kind of monorail along which tiny balloons, only two or three millimetres wide, are steered. These are used to clear the blockage in the artery and get the blood flowing, stopping the heart attack in its tracks.
The scene in theatre during the life-saving procedure is not like the drama often portrayed in soap operas. The team stay focused and calm, and the patient is conscious. They can even watch their heart artery being unblocked on large X-ray screens.
The results so far have been startling.
Most people who suffer a heart attack will receive clot-busting drugs as a treatment.
According to Dr Niall Herity, consultant cardiologist in the Belfast Trust, 92% of all people who have a heart attack in Northern Ireland will survive it, no matter what treatment they get.
But in the pilot year of Primary PCI, with around 230 patients treated, the survival rate has been just above 98%.
Dr Herity said: "In major studies this has been shown to reduce the likelihood of dying, to reduce long-term complications, and to shorten the length of stay in hospital.
"This is now deemed the definitive care."
The Belfast cardiac team say they want the resources to offer Primary PCI to everyone in Northern Ireland. The Department of Health say it is waiting for an evaluation of the pilot project before considering what to do next.
The documentary "Saving Hearts" can be heard on Radio Ulster on Sunday 23 January at 1.30pm and later on the BBC iplayer.