Woman rescued from house fire in Newry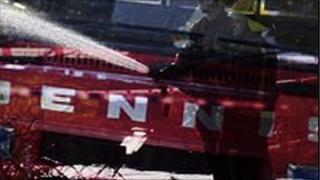 A 47-year-old woman has been rescued from a house fire in the Derrybeg area of Newry.
The alarm was raised by the woman's 18-year-old daughter after she smelt smoke around 0900 GMT on Sunday.
The Fire and Rescue Service said it is not yet clear what caused the blaze but it appears to have been accidental.
Group commander, Randy McCombe, said four firefighters entered the building and found the woman behind a bedroom door.
"They removed her to safety," he said.
"She had suffered smoke inhalation and was treated at the scene by ambulance personnel, who then took her to hospital.
"I would like to highlight that there was no working smoke alarm. In this case, she was very fortunate.
"The circumstances could have been completely different."