Antrim Road remains closed over security alert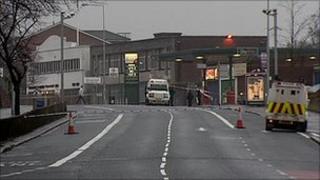 Antrim Road in north Belfast remains closed due to an ongoing security alert.
Army bomb experts have carried out two controlled explosions on a suspicious device on Tuesday night.
More than a hundred homes had to be evacuated since the alert began close to Glandore Avenue.
Antrim Road has been closed since 1600 GMT on Tuesday afternoon and is not expected to re-open until Wednesday afternoon.
Motorists wishing to travel into Belfast from the north of the city should use the M2, Shore Road or Crumlin Roads.
Some families who were moved from their homes were put up at Fortwilliam and McCrory Presbyterian Church overnight.
Reverend Lesley Carroll said the alert had been "very disruptive".
However, she said representatives from the city council and social services had arrived at the scene very quickly.
"It was very impressive to see somebody from the council there all night, somebody from the social services, somebody from Belfast Trust," she said.
"Everyone was there within the first hour of things happening and that was extremely impressive and I was glad to see them and to have their help."
'Confusing'
Sinn Fein MLA Gerry Kelly said police had received three coded warnings. But he said the calls were very confusing.
"They said there was a bomb within the distance of some mile along the Antrim Road. That was checked out," Mr Kelly said.
"In a second phone call, they said it was somewhere on the Antrim Road and in the third phone call it has been narrowed down to somewhere around the Glandore area.
"They said in their latest phone call it was in a dangerous condition. We need to know where that is so that something can be done about it."