Edward Burns case witness 'too scared to testify'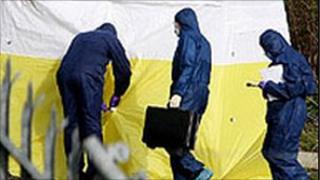 The chief prosecution witness in the trial of a Belfast man accused of murdering a taxi driver has refused to testify, saying he fears for his life.
Damien O'Neill told judges on Tuesday: "I have been threatened that if I give evidence I will be shot dead."
Gerard Mackin, 28, denies the murder of 36-year-old Edward Burns, who was shot dead in west Belfast in March 2007.
The trial opened in Dublin last month, but has since moved to take evidence in Northern Ireland.
Mr Mackin, 28, a native of the Whiterock area of west Belfast, but with an address in Tallaght, Dublin, also denies the attempted murder of Mr O'Neill, the possession of a firearm with intent to endanger life and causing serious harm to Mr O'Neill.
His trial is a retrial after his murder conviction in 2008 was quashed by Dublin's Court of Criminal Appeal.
He was the first person convicted in a Dublin court for a murder in Belfast under the Criminal Law Jurisdiction Act of 1976.
Tuesday's hearing was before Belfast High Court judge Ronald Weatherup and three judges of Dublin's Special Criminal Court.
'Republican threats'
Mr O' Neill, who was arrested in Belfast on Monday night after a warrant was issued by Mr Justice Weatherup, said he had been visited twice in recent weeks by "men from the republican movement."
He continually refused to answer questions put to him by prosecuting counsel Mr Tom O'Connell and by Mr Justice Weatherup.
The judge warned Mr O' Neill that he was liable for prosecution for contempt of court if he refused to answer questions, but he replied: "My life's at stake."
The judge discharged Mr O'Neill after he refused a prosecution application to have a statement made by Mr O' Neill to the PSNI in 2007 admitted in evidence.
The trial will resume at the Special Criminal Court in Dublin on Thursday.