Shots fired in Dungiven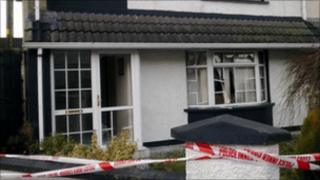 Shots have been fired during separate attacks on two houses in Dungiven on Tuesday night.
A number of masked men approached a house in Greenhaven looking for a man. The gang fired shots in the air close to the property.
At nearby Finvola Park, substantial damage was caused to another house.
There are no reports of injuries, and it is not known if the attacks are linked.
Jacqueline Mullan, who lives in Finvola Park, said she and her teenage daughter were "terrified" by the attack.
"Nothing like that happens here, it's such a quiet wee neighbourhood, it was a shock," she said.
"My parents live three doors up and my father's not well, you worry something like that might happen again.
"The family next door were pretty scared too, they had to be taken out of the house at night with three young children."
Sinn Fein Councillor Cathal O hOisin condemned those responsible.
"This is a very quiet area, and a family with three young children had to be moved from their home," he said.
"This is a very worrying development."
The police are appealing for information.