Trade through Belfast Harbour up by 5%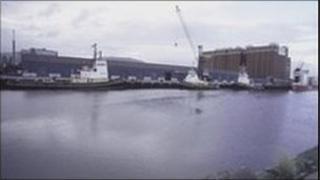 Trade through Belfast Harbour has increased for the first time in three years.
Figures released on Thurdsay show that freight tonnages through the port grew by over 5% last year to 16.5m tonnes.
They had fallen by 10% since 2007 as a result of the recession.
There were big increases in the import of grain and animal feed. Stone exports were up by 47% most of it for road repairs in England and Scotland.
The severe winter weather meant salt exports went up by nearly 240%.
The port's commercial director, Joe O'Neill, said all trade sectors had shown increases during 2010, apart from construction.
He said that the big increase in grain and animal feed justified the decision to invest £30m over the past five years in new wharves and storage facilities.
"Grain and animal feed imports supply our poultry, dairy, and pig industries," he said.
"All have done well over the past 12 months, and so that has led to increased demand for grain and animal feed, and the port has benefitted from that."
Although 2010's trade figures were generally positive, Mr O'Neill said that some sectors, particularly construction, were still in recession.
Timber products fell by 32% to 82,000 tonnes, the lowest since 1985, while cement imports fell to 48,000, a tenth of the volume being brought in at their peak in 2001.
Passenger numbers remained static at 1.3m, while 35 cruise ships called at Belfast carrying 62,000 passengers and crew.
"It is a a good sign that tonnages went up last year," Mr O'Neill said. "We will continue to invest in new facilities, although we recognise that challenges persist in some sectors.
"However, our expectation is that new facilities will be required to cater for long-term growth in the Northern Ireland economy."