Delay to Gilligan plan 'not necessary' - DOE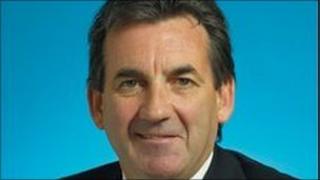 The Department of the Environment has said it is content a controversial Belfast planning application does not need to be delayed despite a police probe linked to the site.
Big Picture Developments Ltd, of which NI Policing Board chairman Barry Gilligan is a director, wants to build 238 flats in Nelson Street.
Planners recommended a city council committee should approve the application but later withdrew it from the committee's agenda after the Housing Executive requested talks.
Content
It is understood that the DOE has consulted with police about the impact of its investigation on the planning application.
A spokesperson for the DOE said: "The Planning Service is content that the application does not need to be delayed while the PSNI carries out its investigation."
On Monday, it emerged that planners had recommended approval for the plan.
Then, on Wednesday, it was confirmed that planners will hold talks with the NIHE before a final opinion is given to councillors.
A DOE spokesperson said that any additional information put forward would be considered before an opinion is put before Belfast City Council's Town Planning Committee.
Big Picture Developments Ltd acquired the site in controversial circumstances after Mr Gilligan was asked to offer advice to a community group which wanted to build 66 social housing units on the site.
Within weeks Big Picture Developments acquired the site.
The land had been designated for social housing.
Under the conditions of the planning approval, 20% of the apartments would be designated for social housing.
Police investigation
In March 2010, the Housing Executive asked police to investigate its involvement with the site.
For years, the Executive had said the land was designated for social housing.
However, it subsequently appeared to change its mind, with one official writing to planners telling them that it was "withdrawing the request for social housing at the scheme".
After it was discovered, senior staff at the Housing Executive ensured the letter was withdrawn and its original position was reinstated.
It is believed this letter formed part of the focus of the police investigation.
Mr Gilligan, who denied any wrongdoing, stepped aside from the Policing Board temporarily as police investigated.
He also went voluntarily to police to be interviewed. It followed a police search of his home and the headquarters of the Policing Board.