Kieran Doherty aunt 'has no idea' why she was arrested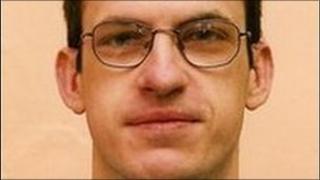 The aunt of Real IRA murder victim Kieran Doherty, has said she does not know why she was arrested in connection with the killing.
Mr Doherty, who had been a Real IRA member, was abducted and shot dead by the group in Londonderry last year.
Priscilla Doherty was released without charge after being arrested along with a man on Tuesday. He was also released without charge.
The 40-year-old said she had nothing to do with the murder.
"Kieran was to me my wee brother - the two of us looked out for each other," she said.
"When I was in the cell I had to see a doctor and the doctor had to give me diazepam and I'm on anti-depressants since Kieran's death.
"I asked them 'why am I here?' A policeman came into the cell and said 'why do you think you're here?' I said 'you tell me'. I said 'I don't understand why I'm sitting in this cell'."
The body of 31-year-old Mr Doherty, who had a two-year-old daughter, was found on Braehead Road, near the Irish border in February 2010.