Enniskillen firefighters fail to agree on bomb montage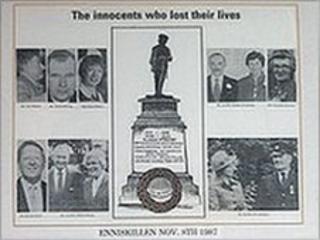 Firefighters in Enniskillen have failed to agree whether a montage commemorating the 1987 bomb should be on display in the town's fire station.
The display was taken down in 2007 following an anonymous complaint.
Last year, the NI Ombudsman Tom Frawley said taking it down was "ill-considered" and it should be restored.
The board of the NI Fire Service said a recent consultation failed to reach a consensus on putting it back or on an alternative solution.
A spokesperson for the NIFRS said its board was disappointed about "what had been a painful and distressing time for the victims of the Enniskillen bomb and the local community.
He added: "The local resolution of this issue remains an absolute priority for the NIFRS Board, the chief fire officer and the firefighters in Enniskillen.
"To this end the board will now consider the Chief Fire Officer's update and explore other opportunities to resolve this issue at a local level."
The ombudsman began his investigation following a complaint from a member of the public in February 2008.
In his report he said: "I do not believe that an uncorroborated complaint alone from an anonymous caller was sufficient to warrant the literally immediate removal of a montage which had been on the wall for 19 years."
He said the tribute had been put up to mark "an incident that clearly had a major impact on the staff who had been involved directly in dealing with the awful aftermath".