Cycle helmets bill being debated in Assembly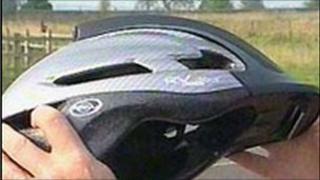 A bill to make it an offence in Northern Ireland not to wear a helmet while cycling is due to be voted on in the Assembly later.
The legislation has been proposed in a Private Member's Bill tabled by the SDLP's Pat Ramsey.
It proposes to fine anyone caught on a bike without a helmet £50.
However, cycling organisations are warning it could lead to a dramatic drop in the number of people who cycle.
Tim Edgar from the CTC - the UK's national cyclists' organisation said: "We want to make cycling as safe as possible, just like the supporters of this bill.
"But there's robust evidence that making helmets compulsory puts people off cycling in the first place.
"That would have a significant impact on the current levels of cycling which we've worked so hard to increase over the last few years."
Ross McGill, of the charity Sustrans, said similar efforts had been unsuccessful in the US.
"I was a teenager living in upstate New York when cycle helmet legislation aimed at children was introduced," he said.
"No child I knew took any notice of the law. It was quite impossible for the police to enforce, even though there were more officers on patrol than you would see in Northern Ireland."