The Carvill Group in talks with creditors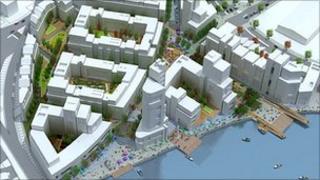 One of Northern Ireland's leading construction companies has confirmed it is in talks with creditors.
The Carvill Group is behind the proposed redevelopment of the Sirocco Works site in Belfast.
In a statement the company said it was planning to enter a Creditors Voluntary Arrangement.
It confirmed that the business would continue to pursue its building projects and apologised to creditors.
The statement added: "There have been positive discussions with the banks and we anticipate that they will fully support the process.
"It is our intention that we do not disrupt existing contracts to purchase homes on our projects."
Economist, John Simpson, said that as of August 2009, the company's borrowing was more than £120m, but that turnover had dropped.
He said:"Now compared to their turnover, that is a very high level of borrowing.
"If their business had kept growing the way it was before the slump in the construction industry, conceivably that would have been repaid and handsomely repaid but their turnover in the most recent financial year is down.
"They went into loss for the first time in recent years and therefore they now have borrowings against a loss."
Mr Simpson explained what a Creditors Voluntary Arrangement (CVA) meant in practice.
"It means that so long as the creditors are prepared to work with the company it can continue in business, we are not saying that it is closed, we are saying that it is continuing in business but that it has difficulty in making arrangements to meet all its obligations," he added.
"If the construction industry had gone the way it was going in 2005 and kept on expanding, this problem would not have arisen.
"What has happened is the value of property they have on their books has probably decreased and yet they have the loans outstanding and they are not getting the buildings up to earn the revenue.
"It is a typical problem for the developers or the building industry in Northern Ireland.
"You need your creditors to agree let's keep this going as best we can, with a certain amount of promise in terms of getting the money back, but let's not wreck the entire thing by putting the company into liquidation."
According to the Carvill Group's website, the family has been in the construction business since Patrick Carvill established a building firm in Warrenpoint, County Down, in the 19th century.
It is involved in projects in Germany, as well as Northern Ireland, England and Scotland.