Strabane girl caught up in Egypt crisis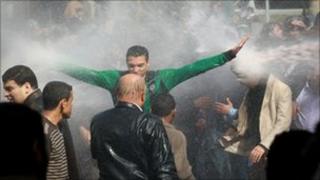 Strabane woman Rebecca McLaughlin, a teacher in Alexandria, has been forced to leave her home as unrest continues in Egypt.
The Egyptian army has called for an end to protests against President Mubarak, who is promising to stand down, but not before September.
The 22-year-old said the safest option for her was to "get out of the city."
"I got a call from the Irish Embassy on Wednesday morning advising us to get out and get out today," she said.
"We've been told there may be clashes with the police very close to where we live.
Rebecca managed to secure a Canadian flight from Alexandria to Jordan.
"The situation has become more unpredictable, it just seems explosive and really unstable," she said.
"I just feel so uncertain, sometimes I'm quite scared, other times I'm okay and I think it will be fine.
"I have been able to speak to my parents and let them know what's going on.
"I think they are worried but they're trying not to let me know that so I don't panic.
"My plan now is stay with the father of a friend from Belfast in Doha for a couple of weeks until everything dies down.
"What's happening hasn't changed my opinion of the Egyptian people, they are all really lovely.
"I just want everyone at home to know that I'm okay."
Mohammed Ali, who has been living in Derry for the last five years, is in regular contact with his family in Egypt.
His mother, father and siblings live in El Sharkia city just outside Cairo.
He said he is not surprised by what is happening in Egypt.
"I saw it coming years ago," he said.
"I go back to Egypt regularly and the last time I saw the pressure there building.
"A lack of democracy isn't the biggest issue, its financial crisis.
"It's fiery, but it will calm down.
"The people need a stable life style; democracy and jobs must be created.
"I want Mubarak to step down for the sake of my people but not because of any foreign influence.
"We need to decide our future for ourselves."
People travelling to, or wishing to leave Egypt, are advised to contact their embassy.