Hundreds attend the funeral of Dr Raymond McClean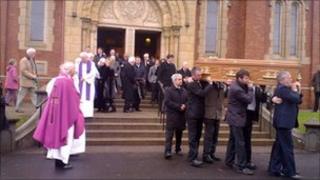 Hundreds of people have attended the funeral in Londonderry of the veteran civil rights campaigner, Dr Raymond McClean.
The mourners were led by Dr McClean's widow, Sheila, the former SDLP leader, John Hume, and representatives of the Taoiseach and President Mary McAleese.
The former Bishop of Derry, Dr Edward Daly was the chief celebrant at Requiem Mass in Saint Patrick's Church in Pennyburn.
Dr McClean died on Saturday aged 78.
Dr Edward Daly described his lifelong friend and former Mayor of Derry as a "light" in the life of the city.
"Raymond was a bright light in the world and in the lives of the many people he touched," he said.
"He also shone light on the darkness of injustice and cruelty and showed them up for what they were.
"He gave hope and encouragement to people when they needed hope.
"He served the people of this city with distinction and great generosity."
Dr McClean is survived by his wife Sheila, son Sean and daughter Sheila.