Family of landfill death man say £60,000 fine is 'not enough'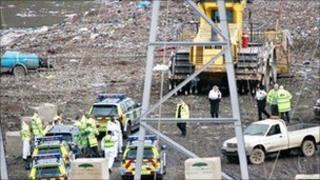 The family of a man who died at a landfill site have said they are "disgusted" after the company which owned the site was fined £60,000.
Biffa Waste Services pleaded guilty to an unsafe system of work at the Mallusk landfill site following the death of David Layland.
The 23-year-old Ballyclare man died in August 2008.
His father, Derek Layland, said the fine "wouldn't be enough for any family" and more needed to be done.
The Health and Safety Executive (HSENI) said that it was impossible to establish how or when Mr Layland died.
However it said the separation of pedestrians and vehicles was unsafe.
Biffa Waste Services was also ordered to pay £20,000 costs.
Belfast recorder Judge Tom Burgess said that the dangers on the site were both obvious and recognised and that there was a substantial failure on the part of Biffa's health and safety measures.
However, he added that while the penalty he was imposing did not reflect the value of a life, the company's plea to failing to protect their employees was on the agreed basis that despite exhaustive investigations, it was impossible to establish how Mr Layland died.
After the hearing Mr Kevin Campbell, HSENI's investigating inspector said: "Proper arrangements must always be in place where large vehicles operate in the vicinity of pedestrians.
"Where vehicles and pedestrians share a traffic route or work area, there must be strictly controlled arrangements to ensure adequate separation at all times.
"This applies to all workplaces and is vital in circumstances where large vehicles operate."
In a statement released after the hearing, Biffa Waste Services emphasised the importance of health and safety to the company, and extended its condolences to the Layland family.
It said: "Mr Layland was a valued employee at the Cottonmount site who was held in the highest regard by his colleagues and at management level."