Man threatened to kill partner and let child find body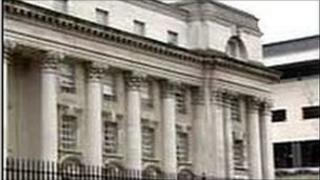 A man raped and battered his partner before threatening to kill them both and have her child find their bodies, a court heard on Wednesday.
The 32-year-old, who cannot be named to protect his alleged victim's identity, also tried to set fire to the home, it was claimed.
The High Court heard the accused beat the woman and held a knife to her throat.
He faces nine charges, including two counts of rape and threats to kill.
He is also charged with criminal damage, assault occasioning actual bodily harm, aggravated assault, attempted arson endangering life, and being armed with an offensive weapon.
The man was refused bail after a judge heard the alleged victim - who has now ended their relationship - was "petrified" when he sent her a letter from prison.
A prosecuting lawyer claimed the first attack was launched following consensual sex at the woman's home last September.
An argument broke out which led to the man taking a kitchen knife, forcing her upstairs and threatening to burn down the house, it was alleged.
According to the prosecution the woman pleaded with him to think of her young child.
But the accused allegedly replied: "You will be dead, I will be dead and the child will find the two of us."
Two days later the man launched another serious assault, dragging her to the floor before punching and kicking her, the court heard.
She was raped twice after refusing his demands for sex, it was claimed.
Although the man has been in custody since his arrest, he wrote to the woman last month.
It was also claimed that during police interviews the accused admitted all the offences except the threats to kill.
But Michael Boyd, defending, stressed his client denied the allegations and claimed to have only made the confessions due to the pressure he was put under.
He said the couple's "fraught and tempestuous" relationship involved heavy drinking and violence on both parts.
Judge, Mr Justice Hart, denied bail due to concerns the accused may attempt to intimidate the woman.