Two more Northern Ireland deaths due to swine flu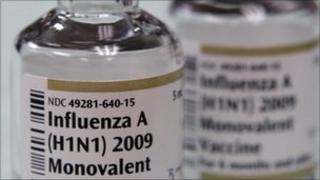 Two more people have died from swine flu, according to the Public Health Agency (PHA).
It brings the total number of deaths during this flu season to 25.
The agency says overall rates of infection are continuing to fall - with 9 new cases confirmed during the last week compared to 41 in the second week of January and 86 in the first week.
Dr Maureen McCartney, from the PHA, said the numbers meant it was likely the virus had hit its peak.
The figure does not include the death of a child resident in the Republic of Ireland who was treated in Northern Ireland.
Underlying medical conditions were present in 22 of these cases. The conditions predisposed the victims to developing serious complications when contracting flu.
Two of the victims did not have any pre-existing medical conditions and the circumstances surrounding the remaining death have not been confirmed.
Dr McCartney, who is a consultant in health protection, said that vaccination remained "the most effective way to protect those who are most at risk from flu and its complications".
"While many people in the at risk groups have already taken up their offer of vaccine, some still have not," she said.
"But it is not too late to get protected and you should see your GP about being vaccinated as soon as possible. Supplies of safe and effective vaccine against swine flu are available for at risk groups."