Two people hurt in north Belfast taxi rank arson attack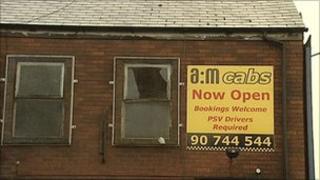 Two people have been hurt in an arson attack on a taxi rank in north Belfast.
At about 0145 GMT on Monday, a number of people entered the office on the Oldpark Road, told those inside to leave and started a fire.
The injuries of the two people involved are not believed to be life-threatening.
The blaze was put out by firefighters.
North Belfast Alliance Representative Councillor Billy Webb has expressed disgust at the incident.
"I hope that those who were hurt make a full recovery. This must have been an absolutely horrific ordeal," he said.
"I am disgusted that anyone could bring themselves to carry out an attack of this nature. This must have been very traumatic for those who were hurt and it's also devastating for the taxi firm."
Police have appealed for anyone with any information about the attack to get in contact with them.