£6m lottery winner fined for using phone in Ferrari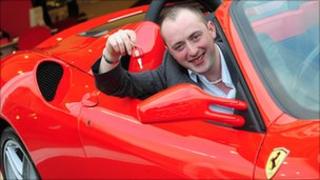 A 28-year-old man who won £6m in the lottery has been fined £200 for using a mobile phone while driving his Ferrari.
Londonderry Magistrates Court was told that Ryan Magee, from Monabouy Road, committed the offence in July 2010.
Mr Magee was also given three penalty points and fined £50 for not producing his driving licence.
A defence solicitor told the court that the actions of his client, who won £6 million in the National Lottery two years ago, were "foolish".