Paramilitaries fill PSNI 'inertia' vacuum - report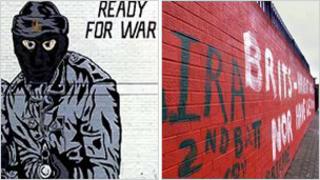 PSNI "inertia" in loyalist and republican areas has created a vacuum being filled by paramilitaries, according to a university study.
Criminologists from the Ulster of University carried out 95 interviews in loyalist and republican areas of Belfast between 2007 and 2009.
They said their evidence showed the PSNI had failed to meet expectations in the post-Patten era.
The PSNI said it disagreed with the report's findings.
Criminologists interviewed community groups, politicians and PSNI officers.
Dr John Topping from the university's Centre for Policing Studies said the PSNI was failing to address fears about crime and anti-social behaviour.
"This has resulted in a growing acceptance of paramilitary 'policing' where there is a clear policing vacuum, with paramilitaries as 'entrepreneurs' seeking to exploit the gaps," Dr Topping said.
One loyalist told Dr Topping that "every area has got paramilitary influence and the politicians, the bosses in the PSNI, are burying their heads".
"I live in a loyalist working class area and it (policing) hasn't changed one bit - if anything, it has got worse.
"This paramilitary influence has been brushed under the carpet by the politicians, and the police don't deal with it.
"In some areas, even being seen talking to the police is still considered informing."
One republican interviewee said that there was a "palate" for paramilitary justice "because people are getting so frustrated".
Dr Topping said the study indicated that the work needed in "changing the hearts and minds" of communities regarding paramilitaries had been underestimated by both the PSNI and politicians.
The paper also found that the effectiveness of the Public Prosecution Service and the legacy of the Troubles was affecting willingness to engage with police.
In a statement, the PSNI said the report took "a one-dimensional approach to a very complex subject".
It said the issue of paramilitarism and paramilitary-style attacks is clearly a policing issue, but not one that policing can deliver a solution to in isolation.
The statement said "whilst we play a key role in tackling this type of criminal activity, it should be recognised that there are also key responsibilities that involve community and political leaders".