Council report into water crisis in NI published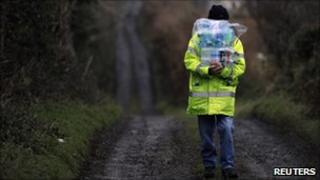 The Consumer Council has published its report into the water crisis in Northern Ireland which left tens of thousands of homes without supplies.
During the Christmas period, up to 40,000 homes lost water due to the freezing weather conditions.
NI Water was severely criticised for the lack of information given to customers. Its chief executive, Laurence MacKenzie, quit last month.
The council said consumers were left "high and dry".
Commenting on the report, its chief executive Antoinette McKeown, said: "NI Water's failings were on a monumental scale throughout Christmas and the New Year - many consumers lost a precious holiday with family and friends.
"Consumers told us that NI Water failed to plan; communicate; provide accurate accessible information; failed to know who their vulnerable customers were or ask for help or support.
"Consumers felt frustrated, angry and concerned and the overriding sentiment in retrospect is that it was all too little too late."
The council said it had listened to consumers across Northern Ireland and made a set of recommendations which it would make available to NI Water and to the NI Executive.
Emergency
These included improving NI Water's planning, communication, the customer care register and response times.
The council said there must be the "development, implementation and rigorous testing of a co-ordinated region-wide plan and response for severe weather and other emergency situations".
Ms McKeown said: "NI Water failed to plan for and manage a major incident and this became a crisis.
"More recent incidents have demonstrated there is much still to learn.
"There is an urgent need for NI Water - and all those with a role in providing a quality water service - to step up and play a stronger role in rebuilding consumer confidence and provide a service consumers deserve."
Six hundred homes lost water in Kilkeel, County Down at the weekend. Northern Ireland Water said faults with newly installed pipes caused the loss of supply.
In a response to the council's report, NI Water said it had received it and would "consider it in detail before responding in due course".
"NI Water is presently involved in contributing to a number of reviews and investigations surrounding the recent freeze thaw incident, including those being conducted by the Utility regulator and Office of First Minister and Deputy First Minister appointees," the statement added.