Shots fired in abduction attempt in Strabane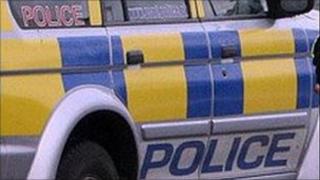 The mother of a man who had shots fired at him during an attempted abduction in County Tyrone has said her son has been "terrified" by the experience.
It happened in the Meville Court area of Strabane at about 2100 GMT on Wednesday.
The man was walking in the area when he was approached by three men.
They tried to grab him and pull him into a white van but he ran off. A number of shots were fired at the man as he tried to escape.
His mother, who didn't want to be identified, said she doesn't believe her son "has done anything wrong" but appealed to those behind the attempted abduction to talk to her and her son.
"He's very upset and shocked," she said.
"He doesn't know what he's doing or what he's going to do
"I'm terrified for him.
"It's scary because he has younger brothers and sisters.
"I don't think he's done anything wrong but if he has I'd like the people to talk to him
"Talking it out is better than shooting.
"I'll go with him and talk to them.
"I'm scared because he's scared and I don't know what's going to happen to him."
The white van involved in the incident was later found on fire at Donneyloop in County Donegal.
The police said a number of follow up searches were also carried out.