Tales from the Shipyard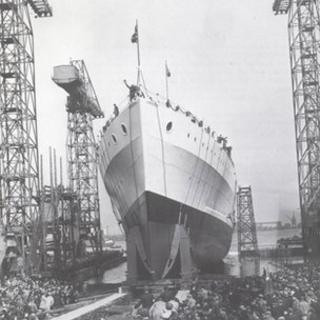 A unique collection of films detailing the story of Belfast's shipbuilding heritage will be screened in Northern Ireland later this week.
This Working Life: Tales from the Shipyard features a host of restored films and television material from the British Film Institute archive - captured across the last century.
The festival at the Queen's Film Theatre in Belfast, opens on Friday 25 February, with a special screening of The Steel Chest, Nail in the Boot and the Barking Dog.
Shot by filmmaker, David Hammond, back in 1986, it chronicles the stories of the men who helped to build some of the most famous ships in the world.
'Wary'
Mr Hammond's daughter, Catherine Gifford, worked as a production assistant on the film.
"We were supposed to start filming on 12 April, the anniversary of the Titanic leaving Ireland, which was a big coincidence," she said.
"So we postponed things just in case something went wrong.
"The management were wary of us at first. Work was drying up at that time and there wasn't a lot of good news to be told.
"The men were a bit wary of us too, but David had a way of getting information out of people."
The film's unusual title was derived from the nicknames of some of the men, who worked at the docks.
Catherine added: "There were a lot of Billies and Sammies, so they all had nicknames so everyone would know which Billy or Sammy they were talking about."
Footage
Other films, to be screened at the QFT include the SS Olympic, shot back in 1910. It features the only existing footage of Titanic's sister ship.
A Great Ship, which dates back to 1962, gives an insight into the building of the great liner, the Canberra.
Catherine said the collection is a chance for the people of Belfast to explore and appreciate the city's history.
"People see these big cranes every day and they tend to overlook the work that went on under their noses.
"These stories, and the kind of work that went on there, will never be heard of again. These are three very different films but they all give an insight into what life was like."
Sadly David Hammond passed away two years ago, but Catherine believes her father would have been delighted to see his work - and the work of other filmmakers - back on display.
"I am really looking forward to it. This is part of our heritage."
This Working Life: Tales from the Shipyard runs at the QFT from 25 February until 3 March.