Hazel Stewart double murder sentencing put back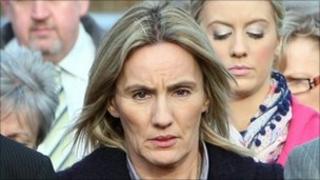 The sentencing of Hazel Stewart, the 48-year-old Coleraine woman convicted of double murder, has been put back.
Stewart was convicted last week of murdering her husband Trevor Buchanan, 32, and Lesley Howell, 31, the wife of her former lover Colin Howell.
She was given a life sentence and was to have heard on Friday what the minimum term would be.
However, it was revealed in the High Court that she will now be sentenced on Wednesday 16 March.
The trial judge, Mr Justice Hart, will hear final submissions at a hearing at Belfast Crown Court on Friday.
Howell, 52, is serving a 21-year-sentence at Maghaberry Prison.
In 2009, he admitted he had gassed both his victims as they slept at their homes in Coleraine and then stage-managed the deaths to make them look like suicides.
Their bodies were found in a car filled with carbon monoxide fumes at Castlerock, County Londonderry in May 1991.