Belfast court hears 'stolen car amost struck jogger'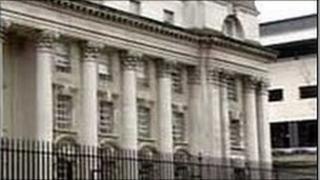 A jogger had to dive for safety when a stolen car mounted a pavement at Dunmurry, on the outskirts of Belfast, the High Court has heard.
Hugh Walsh, 34, of Stroanshesk Park, Ballycastle, is accused of stealing the Audi A4 car and a computer, as well as motoring offences including dangerous driving and driving while unfit.
Prosecutors said he was arrested last month after police used a stinger device to bring the car to a halt.
Mr Walsh was refused bail on Tuesday.
He has also been charged in connection with the separate seizure of a Ford Focus in Belfast in January and a Vauxhall Astra in Lurgan last September.
Beer tins found in the Audi car have been submitted for fingerprint tests.
The court heard it had been stolen earlier on 23 February and driven to Belfast, where it was spotted on Dunmurry Lane travelling at up to 90mph.
Opposing Mr Walsh's application for bail, Crown counsel Conor Maguire claimed his continued detention was necessary to protect the public.
He claimed Mr Walsh had shown "an absolute disregard for the public given the manner in which he drove in Dunmurry in the middle of a Wednesday afternoon, past a school where schoolchildren were being picked up, and to the extent that a male jogger had to actually remove himself from a pavement".
Defence lawyer Andrew Moriarity, said his client has had "a long battle with alcohol".
He said Mr Walsh could be released to live with his mother, who would report any default to police.
But refusing bail, the judge described the risk to the safety of those at the scene as "shivering".
Mr Justice Weatherup said: "There is inherent in what has happened here some very dangerous activity which might well have resulted in catastrophe for others."