Royal Wedding: A smooth first visit to Northern Ireland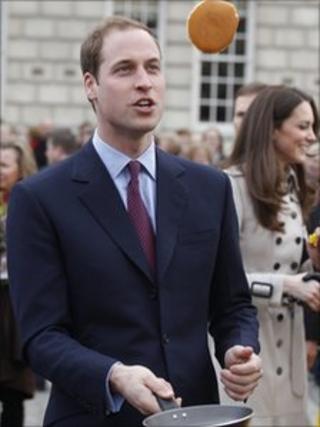 It was fitting that Prince William and Kate Middleton's first visit to Northern Ireland should begin at Belfast City Hall.
Built after Belfast was granted city status by Queen Victoria, her statue stood proudly behind her descendant and his fiancee as they arrived in the grounds.
For security reasons, their visit was not widely publicised beforehand but even at short notice, crowds had gathered creating an expectant atmosphere.
About 100 people lined up inside the gates and many more looked on from outside.
One of the best vantage points was the roof of an adjacent building where a group of bank workers had taken a break and looked down curiously.
A cold Shrove Tuesday wind had left many of those waiting hopping from one foot to the other and rubbing their hands, but as the couple got out of their vehicle, the cheers were warm.
Both Prince William and Miss Middleton obliged with smiling, enthusiastic waves before going inside to meet Lord Mayor Pat Convery.
It would be another 30 minutes before they came back out, giving the wellwishers plenty of time to get their cameras ready.
Their patience was rewarded with the royal couple, looking youthful and elegant, taking time to shake all the proffered hands while chatting readily.
Most of those gathered were women and children and the majority of their questions were focused on the upcoming wedding.
Despite not having as much experience in public life as her fiance, Miss Middleton appears a natural.
When Heather Lindsay from Killyleagh presented her with a posy of flowers and told her that she should not lose any more weight before the big day, the princess-to-be joked that it was all part of her preparations.
Meanwhile, William politely declined Mrs Lindsay's offer of a baseball cap with 'Groom' written on the front, telling her that while he appreciated the gesture, he worried that his grandmother would not approve.
The couple were at ease and the crowd excited.
They gathered in little groups afterwards to share their new anecdotes.
Florence Coulter had travelled from Saintfield to get her place in the front row.
"I told Kate that I hope she has a lovely day and that we were all looking forward to watching it," she said.
The prince looked relaxed throughout and the only moment when hesitant trepidation flickered across his face was when representatives of the Northern Ireland Cancer Fund for Children invited the couple to toss pancakes.
But, in keeping with their smooth first engagement in Northern Ireland, there were no spillages, with both taking to the task with gusto.
Sticking to a tight schedule, the couple responded to final shouts of good luck by waving heartily before getting back into their waiting vehicles.
Once again, the crowds cheered, the atmosphere crackled and the only thing flat was the pancake.