Parents petition MLAs at Stormont over music therapy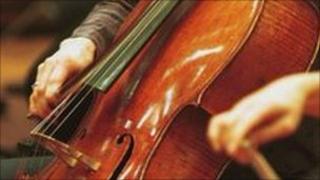 Parents of children with special needs are to petition MLAs at Stormont over threatened cut music therapy provision in special schools.
Six hundred children and young people with severe learning disabilities across NI could lose their music service because of budget cuts.
The NI Music Therapy Trust has organised a walk and a petition at Stormont on Wednesday in support of music therapy.
Parents said the service was vital.
They said their children had no verbal communication skills and the only way they could get a message across was via music therapy, funded by the Department of Health.
Paula Dillon whose daughter Anna, 10, benefits from music at Knockevin School, Downpatrick, said: "Music therapy is financed as an additional service to the school.
"But it makes a significant impact for children who have such limited understanding and difficulty with communication.
"It is only financed for children with severe and profound learning difficulties who attend special schools.
"But it is a very cost effective therapy which does work. It has an observable effect, facilitating enhanced communication for children for whom the spoken word has very little meaning."
Fiona Davidson, executive director of NIMTT, said: The threatened, complete loss of this service from April will have a major impact on this already disadvantaged and vulnerable group of children and young people.
"Music therapy has become an essential part of their health care. It is hard to understand how removing this vital, front-line service will really address the budgetary shortfall".