NI Police Federation concerns over Winsor Report plans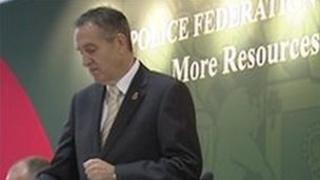 The Police Federation has expressed concern that possible changes to police pay in England and Wales could affect officers in Northern Ireland.
Forty percent of English and Welsh officers could have their pay cut by up to £4,000 a year, if recommendations in an independent report are followed up.
"We are very concerned," NI Police Federation chairman Terry Spence said.
"As things follow on from England and Wales in Northern Ireland, we can expect the fall-out."
The Winsor Report for England and Wales recommends making savings of £60m a year in overtime.
The Department of Justice at Stormont has said it would study the report.
Former rail regulator Tom Winsor said officers who lost out under his reforms would be those in positions largely confined to police stations and not requiring specialist skills and overtime.
However, Mr Spence said officers in Northern Ireland were under threat from terrorist violence "24/7".
He said last year 30 PSNI officers had to move home because of the security threat.
"Our officers can't live where other public sector workers would want to live, they have to live in areas where they are relatively safe," he said.
"That means there's an additional cost implication.
"What I don't want to see is police officers having to come forward and seek state hand-outs to ensure they're able to live in places where their families are safe.
"Ultimately if these recommendations end up going through that's the way I see it happening."