Pensioner wins legal bid over cuts to cleaning service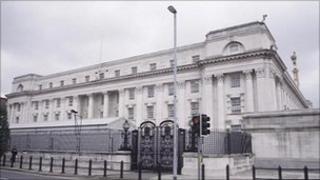 A wheelchair-using pensioner has won a legal challenge over the withdrawal of cleaning services at her specially-adapted bungalow.
Kathleen McClean brought judicial review proceedings against the Western Health and Social Care Trust.
The 75-year-old, who lives alone in supported housing at an undisclosed address, has impaired mobility and limited social contact.
She challenged the adequacy of the trust's social care provision to her.
Mrs McClean was said to lead a solitary existence, with her son and care assistants being the only regular visitors.
Daily services, provided to her on the basis of a trust assessment, included help in dressing, preparing breakfast, lunch and dinner, applying cream to her legs and evening assistance.
Mrs McClean also received cleaning help, involving carpet vacuuming, and washing kitchen and bathroom floors, for one and a half hours a week until it was withdrawn in 2008.
She claimed the withdrawal was unlawful and has led to her spending up to £48 a week on cleaning services.
Significant strain
In his judgment, Mr Justice McCloskey said: "It is clear from all the evidence that Mrs McClean is a proud and independent lady who wishes to preserve her independence, privacy and dignity for as long as possible."
Ruling that her application for judicial review should succeed, he pointed out how she had had to fund cleaning services for more than two years.
"This has given rise to a significant strain on her limited financial resources and all of this has been the cause of resulting distress and worry," the judge said.
"I consider that, from the point of the crossroads which was reached in August/September 2008, the trust has proceeded on the assumption that Mrs McClean is well able to afford the cost of domestic cleaning services.
"However, there is no evidence whatsoever of any proper consideration of Mrs McClean's income."
The judge made a declaration that in withdrawing her cleaning service the trust acted unlawfully by failing to ensure all information and considerations were taken into account.
He held that it had also "impermissibly" taken into account the pensioner's disability-related benefits.
Mr Justice McCloskey added: "I have opted for this particular remedy on the premise that it will stimulate a reassessment of Mrs McClean's needs which will entail a full inquiry into all material facts and considerations and fresh, fully informed decisions. This will hopefully ensue promptly."