NI priest steps aside over 'abuse' allegations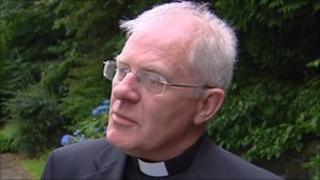 One of the most senior priests in the Down and Connor diocese has taken leave of his duties following allegations of abuse against him.
They were received by the diocesan child safeguarding office in January.
Father John McManus was a former press spokesperson for the diocese and a member of its committee which oversees the safeguarding of children.
The police have begun investigating the allegations. In a statement Fr McManus said he denied them "wholeheartedly".
The priest, who is based in the parish of Ballygalget on the Ards peninsula, released a statement on Wednesday night. In it he denied the allegations and said he had co-operated fully with the inquiry.
Fr McManus said that for the duration of the inquiry he has requested leave from his ministry as a priest and his position as chancellor of the diocese of Down and Connor.
The chancellor effectively runs the administration of the diocese.
In the statement he also asked people to pray for all those hurt by abuse and also to pray for him.
A statement from the Bishop of Down and Connor, Bishop Noel Treanor, confirmed that the allegations were first received six weeks ago on 27 January.
Review
The safeguarding team then reported the allegations to the police and social services the following day.
Bishop Treanor said he then imposed restrictions on Fr McManus' ministry and role in the diocese.
He said that those restrictions were discussed with and approved by the police, the social services and with the Diocesan Advisory Panel and that they met child safeguarding concerns.
In the statement Bishop Treanor also said the PSNI had commenced an inquiry into the allegations, and that the diocese was fully co-operating with the police inquiry.
Fr McManus was once in charge of the seminary based at St Malachy's College in Belfast and was also the principal of Ballygalget Primary School.
He was born and bred in Portaferry and runs a farm just outside the village.
Fr McManus was also a former press spokesman and often gave interviews to the media.
He was also a member of the Diocesan Safeguarding Committee, which oversees practices regarding the safeguarding of children and young people in the Down and Connor diocese.
On Thursday, the parish priest in Ballygalget and Portaferry, Fr Patrick Mulholland, said he was "very shocked" the allegations had been made against Fr McManus.
He said he had known Fr McManus since he was a student for the priesthood and described him as a "good friend".
He said he had only been made aware of the allegations on Wednesday evening.
"Today I have been interacting with people who are very shocked, very saddened, very broken by this news," he said.
"I have had people in tears with me telling me they don't believe a word of it.
"They have known only good from Fr McManus."