Petrol bomb thrown during trouble in east Belfast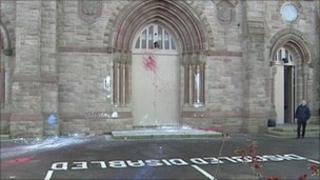 Fireworks and a petrol bomb have been thrown during trouble in east Belfast.
Opposing sides gathered in the Lower Newtownards Road area about 2200 GMT on Wednesday.
Police said officers worked with community representatives to disperse the crowd. The area was quiet by 2330 GMT.
On Tuesday night St Matthew's Catholic Church at the interface was attacked for the second time in a week.
Sinn Fein's Niall O Donnghaile said such incidents need to stop.
"The onus very much remains on both the parents of the young people involved, but also on the PSNI who need to get a grip on this situation," he said.
"Up until relatively recently the PSNI have been able - with a very small amount of resources - to prevent any outbreak of trouble, so they need to re-evaluate and reassess."
Ulster Unionist Michael Copeland said a number of factors could lead to an increase of tension at the interface.
"Old firm games, good weather, possibly band parades - any one, or two, or three of those things in around the same time can flash up the fact that there could be difficulties," he said.
"There is an undergoing tension, created by a minority of people across that interface."