Traveller wins planning appeal over Portadown site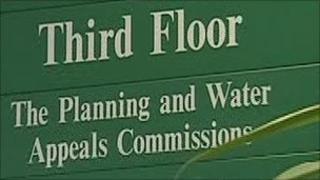 A member of the Travelling community has successfully appealed against a decision not to allow him and his family to live on land near Portadown.
John Boswell has lived with his wife and son in a caravan at the site at Balldugan which he purchased in 2001.
He was turned down for retrospective planning permission but the Planning Appeals Commission (PAC) has overruled that decision.
It added that only Mr and Mrs Boswell would be allowed to live at the site.
'Hearts of gold'
The commission heard evidence that the couple were well integrated into the local community and volunteered at a local church.
The pastor of the church supported the appeal and said he had heard on Thursday morning that it had been successful.
"I am absolutely overjoyed," said Pastor Marcus Thomas of Bridge Community Church.
"John and Celia are tremendous people who give so much of their time to the local community.
"They have hearts of gold and I know they are very pleased to have won their case."
The commission had heard that the couple, who both suffer from ill-health, had been moved from a previous site near Moira.
He then bought the site near Portadown for £1500 - "a bargain he could not resist".
He went ahead with the purchase despite being aware that planning permission for a dwelling on the site had been refused twice previously.
However, he said he acted after the Citizens' Advice Bureau told him that he could not be moved on by law if he put his caravan on the site.
'Not accepted'
The commission also heard that Mr Boswell, who is unable to read or write, did submit a planning application in 2002 but contrary to his instructions, his architect submitted an application for a house instead of a site.
It also heard that while medical reasons prevented the couple from travelling from one place to another, they had an "abiding cultural aversion to living in bricks and mortar housing".
Granting the appeal, the commissioner said he was taking a number of factors into consideration including the fact that his Welsh/English background meant he was generally not accepted by Irish travelling communities.
He added that the Housing Executive, which supported the appeal, did not have an alternative site and Mr Boswell was not a high priority for NIHE accomodation since he had made provision for his own needs.
The planning approval contains a number of conditions including the restriction that only Mr and Mrs Boswell and their family can live at the site and that it will not be used by other members of the Travelling community once they cease to live there.