Widow hits out at Kerr murder accused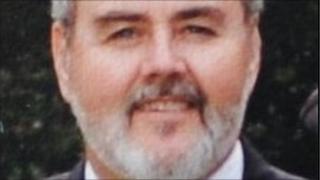 The widow of a murdered man has said she has no sympathy for the person accused of killing her husband.
Darren Kernohan, 35, of Moss Drive, Antrim, denies murdering financial advisor Geoff Kerr in April 2009.
A lawyer for Mr Kernohan at Belfast Crown Court said his client, "bitterly regrets" what happened to Mr Kerr.
However, Mrs Sally Kerr told defence QC Barry McDonald: "Sir, your client's feelings or emotions are of no consequence to me."
The lawyer had put it to Mrs Kerr said that although Mr Kernohan "deserves no sympathy" for what he did, "he didn't go there to shoot anyone and when the gun went off, it was a complete accident."
Mrs Kerr told the court she disagreed and earlier, her voice shaking with emotion, she said: "I hate to overstate the obvious but if he had not come to my house in the first place we would not be here.
Jail for life
"He (her husband) would still be alive and we would be celebrating our wedding anniversary today so forgive me if I don't have any sympathy for your client."
On Wednesday, Mr Kernohan's co-accused 51-year-old Martin Fleming, from the Churchill Road in Larne, was jailed for life after he pleaded guilty to murdering Mr Kerr.
It is the Crown case that the pair, with Kernohan armed with a handgun, went to the Kerr's home at The Village in Templepatrick just before 10pm to steal the numerous legally held firearms Mr Kerr had.
The jury of nine men and three women have already heard that in his defence statement, Mr Kernohan claimed he did not know it was a real handgun and that it went off by accident.
Mr McDonald suggested to Mrs Kerr the gun could have gone off while Mr Kernohan was being "pounded" by Mr Kerr with a large, heavy soup terrine china dish.
Mrs Kerr's youngest son Adam also gave evidence and he told the jury how he "bolted" downstairs when he heard a commotion.
He said he saw his father standing holding the large dish in both hands and at head height and that when he went into the kitchen, he saw Fleming standing at the back door, trying to open it.
'Petrified'
"He (Fleming) turned and he pointed at me," said Mr Kerr, adding that it was in a "very, very bizarre way" and described how Fleming mimicked pointing a gun at him.
Believing at first that it was an actual gun being pointed at him, he said: "I was fixated on his hand... I was petrified".
He said that as Fleming ordered him "forcefully" to get on the floor, he heard a gunshot from the hall where his father was and Fleming "made a beeline" to leave.
Mr Kerr said when he walked out into the hallway he saw his father lying face down so he knelt down beside him.
Under cross examination, Mr McDonald asked him if Fleming appeared "startled" when he heard the gunshot but Mr Kerr told him "his face displayed no shock or surprise or any emotion for that matter".
The jury were also able to handle a Glock pistol, similar to the weapon which killed Mr Kerr.
A senior forensic firearms expert told the jury that given the nature of the handgun, it would be unlikely that it would be fired inadvertently.
Under cross-examination, he accepted that the trigger was easily pulled but maintained it was unlikely to have been fired by accident.
"The pulling of a Glock pistol trigger is a deliberate act," said the expert.
The trial continues.