Husband 'squared up to barrister' after wife's case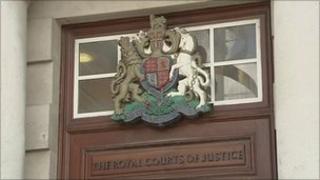 A judge is to investigate claims that the husband of a woman involved in a High Court case squared up to a barrister and offered to fight him.
Mr Justice Treacy said that if the barrister's allegations were true, they amounted to serious contempt of court and possible criminal proceedings.
The alleged confrontation happened on Wednesday during a case involving a dispute over a right of way.
Roberta Young brought proceedings over a lane at Carrowdore Road in Greyabbey.
Michael Humphreys, counsel for one of the defendants in the case, has now alleged that he was approached by her husband, William Young, outside the court.
In an affadavit, the barrister claims Mr Young waited for him, squared up to him and offered to fight him outside.
It was also alleged that Mr Young pushed his forehead up against his.
The barrister told the court today that the incident occurred in front of a number of legal representatives.
'Glared at'
Mr Young claimed any encounter was a result of being "glared at" earlier by Mr Humphreys as a witness was being cross-examined about whether someone had removed part of his report.
Asked by the judge if he had acted as alleged, Mr Young said he thought the lawyer had squared up to him.
Mr Justice Treacy told him: "You appreciate at the minute there is one version from the barrister concerned, and there is what you are telling me now.
"If what the barrister says is correct that would amount to very, very serious contempt of court and also the criminal offence of assault.
"This is a matter which is going to have to be fully investigated."
Mr Young informed him he would need to take legal advice.
The judge replied: "You will be given every opportunity to take independent legal advice because I think you will require it."
He agreed to give him until next week to consult with lawyers before deciding how to deal with the allegations.