Peter Robinson visits murderer Mark Kincaid in prison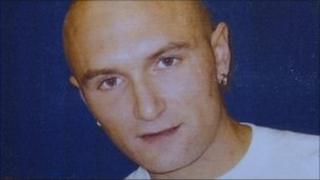 NI First Minister Peter Robinson has made a prison visit to a convicted murderer who claims he is the victim of a miscarriage of justice.
Mark Kincaid was given a life sentence for the murder of David Hamilton in 2004.
The 44-year-old lay dying for hours after he was viciously beaten in a flat in the Ballybeen estate in east Belfast.
Mr Robinson said he had been asked by a pastor to go to Maghaberry prison.
"I have obviously heard from the local area, the views of many people as to who was responsible for the murder and I thought it was valuable to have a conversation with him," he added.
Kincaid was one of three men convicted of the killing.
He is three years into a sentence of at least sixteen years.
Fingerprint
More than a year ago, the Court of Appeal upheld his conviction but lawyers at Criminal Cases Review Commission will look at the case again to decide whether it will be treated as a possible miscarriage of justice.
Kincaid has continued to protest his innocence, despite a fingerprint on a piece of broken glass linking him to the scene.
Kincaid told police that he had never been in the victim's flat but later said in a letter from prison that the fingerprint could have been left when he was at a party there weeks before the murder.
He now admits he lied to police about never being in the victim's flat but his current solicitor said he told those lies through fear and that when he finally told the truth it should have been submitted as fresh evidence.
The lawyer has also argued there is no way of knowing when the fingerprint was left.
The prosecution said it was left during the attack on David Hamilton.
'Sufficient issues'
Mr Robinson said he believed there were a number of features about the case "which would make one uneasy about the verdict and make you look at it again".
"It isn't for me or for you to determine whether Mark is guilty or not guilty," he said.
"I think ultimately that would be a matter for the court but I think there are sufficient issues in this case to cause the criminal case review commission to look at it again."
Kincaid's mother, Ellen Foulis, has held several rallies to protest her son's innocence.
"I can't go into a whole lot of detail about what has been recovered but the new solicitor has recovered new evidence and that is why it is allowed back to the CCRC," she said.
Peter Robinson has denied that his visit to Maghaberry prison is anything to do with the upcoming Assembly election campaign.
"I think you know well enough that if anything it would be a negative impact in terms of justice issues so it clearly has no impact from my point of view," he said.
"I am following the advice of a pastor I respect who believes he is innocent."