Funeral of Belfast man with vCJD takes place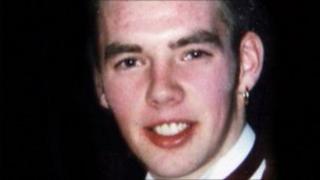 The funeral of a Northern Ireland man who suffered variant CJD - the human form of mad cow disease - has taken place in Belfast.
Jonathan Simms died at the weekend, 10 years after he first became ill.
He confounded doctors by becoming one of the world's longest survivors of the brain disease.
His funeral took place at the family home in the Highfield area of west Belfast on Thursday.
Jonathan, a talented footballer, first became unwell in May 2001.
Initially, doctors thought he had multiple sclerosis. But Jonathan's illness was later confirmed as vCJD. He was given just months to live.
After a court battle, the family won the right to use the experimental drug pentosan polysulphate in January 2003.
It had not previously been tested on human beings.
At that time, his father, Don Simms said the decision to give their son the drug was a "calculated risk based on 20 years of science".