Eglinton daughter has 'no regrets' over gift of kidney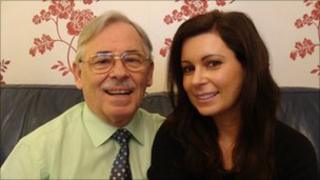 An Eglinton woman has said she has "no regrets" after donating a kidney to her 73-year-old father.
Iilona Neilson said she was feeling weak, but improving as the hours rolled on, and her father, Robert Smyth, was also doing well.
He has had renal illness for 40 years.
"He has gone from unhealthy to healthy," Mrs Neilson said, "whereas I came into the hospital a healthy person and had an organ removed so he is actually in better shape than I am."
Mr Smyth's surgeon told her his kidney seemed to be functioning, and he was "looking like a teenager", she said.
"Dad is isolated at the moment. I spent about 10 minutes with him. I leaned over to give him a hug and my stomach was too sore and he was too sore so we kind of blew air kisses at each other.
"It's really lovely," she said, "I think it's brought us closer together. I think it would have been impossible for it not to."
Mrs Neilson said she was doing well, but the surgery had taken more out of her than she expected.
"I was feeling really calm all morning and talking to other patients and trying to reassure them but as soon as they wheeled me away I got nervous.
"On the operating table everybody told me how brave I was, and I thought for the first time, yes, I am kind of brave.
"When I came round there was another lady in the ward with me and I was glad to see her. We had a wee laugh and then we went back to sleep."
Mr Smyth is now looking forward to the possibility of life without dialysis.
Speaking before surgery, Mr Smyth said he had written a poem for his daughter to express his love and gratitute.
"The poem relates how much I appreciate her, love her, and thank her for the life-giving donation of a kidney - the sacrifice she is making for me.
"The prospect of having a new kidney and having a new lease of life gives a new outlook on life. It brightens up your whole future."