Derry DPP fails to agree to meet over dissident row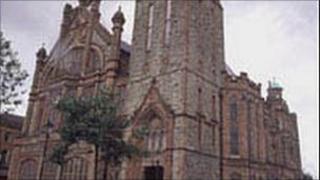 The Derry district policing partnership has failed to agree a date for its next meeting after a dispute between its members over how to handle dissidents.
Dissidents who have previously disrupted public meetings have declined an invitation asking them to attend the next meeting.
DPP members are divided over whether to continue the dialogue.
The next meeting is due to be held before the end of March.
Several DPP meetings in Derry have faced disruption, including one in November which had to be abandoned because of a dissident republican protest.
Around 50 protestors disrupted the meeting in the Guildhall, blowing whistles and chanting slogans.
The chair of the DPP, Martin Reilly, said that no member of the DPP was opposed to more public meetings, but he said there had to be agreement on the way forward.
A recent private meeting of the DPP recognised the need to deal sensitively with the issue, he said.
"People have the right to protest against the DPP do but they do not have the right to prevent DPP meetings from taking place.
These meetings deal with issues such as road safety, burglary, drugs and other areas of crime that every city has to deal with - by disrupting public meetings, the people of Derry are being denied the right to discuss these matters with the police."
He said he hoped that the DPP could still have the required number of public meetings before the end of March.
The Sinn Fein MLA and member of the Assembly's Justice Committee, Raymond McCartney, said the DPP should be given the time and space to resolve this.
"The right to protest we accept. Every member of the DPP has given the space and allowed people to make their protests.
"But when people make their protests they have to be mindful that our decisions have the right to be heard and the right to hold the PSNI to account."
One member of the Derry DPP, Linda Watson, said she hoped the date for the next meeting could be agreed as soon as possible.
"Every meeting that has been disrupted, the dissidents or whoever is protesting are given the opportunity to go in and speak but they're more intent on disrupting meetings," she said.