DUP candidate's Antrim home targeted by pipe bomb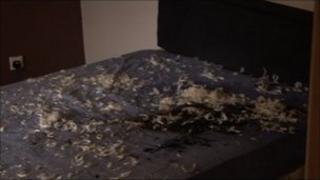 A DUP local election candidate has said he was lucky to escape injury after a pipe bomb was thrown through his window and landed on his bed.
John Smyth Jnr was in his flat in Antrim when it was attacked at about 0400 GMT on Friday morning.
Mr Smyth, whose father is a current DUP councillor, was in the living room and rushed in to put out the fire.
"If I had been in bed, I would be dead now, no question," the 30-year-old factory worker said.
He added: "I am a night shift worker and had the night off but I couldn't sleep because I had slept through the day.
"So I was in the living room on the laptop doing some research for the election and watching TV when I heard this smash and an explosion.
"It sounded like a firework going off.
"There was smoke billowing down the hall and I ran down and my bed was on fire."
Mr Smyth, who is running in the local government elections for Antrim Borough Council, lives in Seacash Walk in the Steeple area.
He said he was unsure why he had been targeted.
"The only things I can think of is because I am running for council for the DUP and because of my stance on drugs - I am very much against drugs," he said.
DUP leader Peter Robinson condemned those responsible for the attack.
"I completely condemn those responsible for this outrageous attack on John, who is running as a candidate in the forthcoming local government elections. I know he will not be deterred from standing up for his community by the thugs responsible for this outrage," he said.
"I would hope that those responsible can be quickly brought to justice for this crime and I want to offer my support to John and the entire Smyth family and to demonstrate the support of not just our party, but the wider community also."