Family of 'Disappeared' relieved after inquest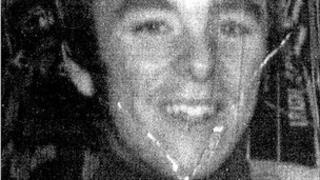 The family of Peter Wilson, who was abducted in Belfast and murdered by republicans in 1973, said his inquest had "brought them nearer to closure".
The vulnerable 21-year-old, who had special educational needs, became known as one of the "Disappeared" after he went missing in 1973 in Belfast.
Peter's remains were discovered at an Antrim beach after information was passed to the authorities last year.
His family said they were relieved that their tragic wait had been ended.
"Today brings us closer to finding closure for our family," they said.
Peter was identified as having special needs when he was 8-years-old and attended Saint Aloysius Special School in Belfast and then Muckamore Abbey, a residential school for children with special needs.
His sister, Ann Connolly, said in a statement to the Commission for the Location of Victim's Remains that when he left school he could not read or write, but could only sign his name.
Mrs Connolly said her brother was well-known in the local community and well-liked.
"Peter was a home bird and never stayed out overnight," she said.
"Towards the end of July 1973, Peter went missing for about five days. He had gone out and just did not come home.
"A few days later he went to Broadway Army Barracks because he had been told by someone that Peter had been taken there. He was just told they didn't have him, but as my dada was leaving a soldier at the gate told him he had been there."
Peter returned home about five days later wearing army fatigues, boots and had his hair cut short.
"He told us he had joined the army and that was where he had been," Mrs Connolly said.
"The next day, which was 1 August 1973, Peter went out to play football at Falls Park after lunch and never came back. He was told to be back for about 4.30 pm, but never returned. He was never seen again."
Peter's father died of cancer in November 1974 and on 22 November 2007 his mother died of a stroke.
The inquest at Belfast Coroner's Court heard confirmation Mr Wilson had been shot four times in the back of the head.
Coroner John Leckey described it as "an execution".