Hazel Stewart's lawyer pleads for leniency in sentence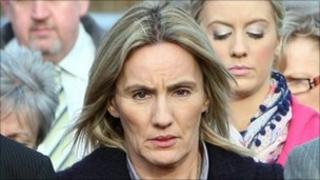 A lawyer for convicted double killer Hazel Stewart has appealed to a judge to show her mercy when he fixes her minimum life tariff next week.
Paul Ramsey QC made his plea in mitigation at Antrim Crown Court on Friday.
Stewart was convicted of killing her husband Trevor Buchanan and Lesley Howell in 1991. She will be sentenced on Wednesday.
Mr Justice Hart was asked not to pass a sentence which "would crush her".
Mr Ramsey said a sentence should be passed which "adequately reflects" Stewart's role taking into account "the urgings of her children and husband to show mercy".
"They have memories of their father and love for their father and they know she played a role in their father's death and nonetheless they stand by her."
"They asked for justice and fairness and so does the accused," he added.
Mr Ramsey also disputed the prosecuting QC Ciaran Murphy's claims that Mrs Stewart had not yet "publicly" admitted her guilt or shown remorse and said this was "not strictly fair to her".
He said that she had never denied what she did, admitted her role "right from the start...never retreated from that position" and had been "clearly remorseful and clearly upset" when questioned by police.
Pc Buchanan and Mrs Howell were found in a fume-filled garage in the seaside town of Castlerock, County Derry.
Their deaths were believed to be a suicide pact until Stewart's ex-lover dentist Colin Howell confessed to the murders 18 years later.