Killer dentist Colin Howell has assets in five countries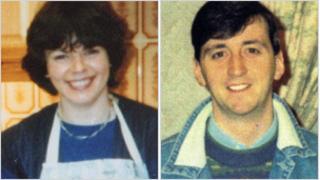 Killer dentist Colin Howell has property and bank accounts in five countries Belfast Crown Court heard on Friday.
The assets were revealed during the latest stage of the Public Prosecution Service's move to seize all of the convicted murderer's assets under the Proceeds of Crime Act.
Howell is serving a minimum term of 21 years for murdering his wife and his former lover's husband in Castlerock, County Londonderry in 1991.
Neil Connor, a Crown lawyer, told Mr Justice Anthony Hart that 52-year-old Howell had assets in Florida, Nicaragua, Singapore and the Philippines and said the process to recover them would be a lengthy one.
Mr Connor said it was "a complicated case with a complicated financial background", and so the confiscation order would not be completed within the six-month time-frame required by legislation.
The judge agreed that the process would take a "considerable period of time" and extended the period of the confiscation application by another three months. He said the case would be reviewed again on 24 June.
No exact details of Howell's bank accounts and properties in the United States, Central America and south-east Asia were revealed at Friday's hearing or separately, at the pre-sentencing hearing involving his ex-lover Hazel Stewart.
However, in November, when he pleaded guilty to the murders of his wife Lesley, 32, and Constable Trevor Buchanan, 31, it emerged he had lost an estimated £350,000 after investing in a project to find missing gold bullion in the Philippines in 2008. He was told the treasure had been buried by the Japanese army towards the end of World War II.
Swindled
Just before he confessed to the double murders in January 2009, he realised he had been swindled after travelling to Manila.
Howell still owns a luxury home at Glebe Road, outside Castlerock, where he lived with his US-born wife Kyle and their 10 children.
She has now divorced him and is living in Florida with the five children they had together. Police may question her again after it emerged that, 15 months after they married, Howell had allegedly told her he had committed the murders.
In addition to his clinic in Ballymoney where he specialised in implantology, Howell sold off his own dental practice in Ballymoney, County Antrim and a half-share in one in Bangor, County Down.
Police have also launched legal proceedings to recover money from Hazel Stewart, who had been living with her second husband David Stewart in a luxury home outside Coleraine where she was arrested after Howell implicated her as he admitted his own guilt to police.
Stewart sold off her home at Charnwood Park, Coleraine, the house where Howell gassed her husband as he slept in bed.
The 48-year-old mother of two received £130,000 in benefits, partly from an insurance company with whom she had an endowment policy and the rest from a police pension scheme which she received up until she married again five years ago.
Meanwhile, Howell is still facing charges of indecently assaulting some of his female patients. He has admitted assaulting three of them, but has also denied a series of other charges involving three more women. The trial is expected to start in May.