Bail for woman who 'washed blood-stained clothes'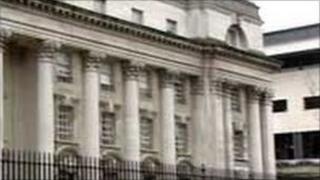 The girlfriend of a man accused of stabbing a teenager to death in Newcastle, County Down, washed his blood-stained clothes, a court heard.
Lynsey Cahoon, 20, is charged with assisting an offender in connection with the murder of 18-year-old Paul Owens on February 26.
Mr Owens received a fatal wound to the chest, a High Court bail hearing heard.
Granting bail, the judge said he took into account Ms Cahoon's clear record and the fact she had a child.
Ms Cahoon, of Central Promenade, Newcastle, was banned from entering the town as well as Ardglass and Newry.
Her boyfriend, David Kennaway, 26, of Kenard Villas, Newry, has been charged with the murder,
During Ms Cahoon's application, Crown Counsel Conor Maguire alleged that she told police at the scene that a bald-headed man had carried out the attack.
It was claimed that Ms Cahoon also tried to destroy blood-stained clothing.
Mr Maguire said: "There is evidence that she attempted to remove blood from three items - boxer shorts, a jacket and trainers.
"They were found by police in the washing machine."
The judge also imposed a curfew and banned her from any contact with Crown witnesses or the victim's family.