'Pragmatism or populism'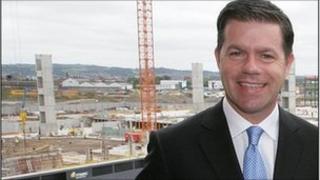 "What have the Romans ever done for us?"
Fans of Monty Python will be familiar with that line. As St Patrick's Day approaches and the political focus shifts towards Washington and the White House, the line we're more likely to hear is "What have the Americans ever done for us?"
Of course the simple answer is "quite a lot" when it comes to inward investment and political assistance. Certainly a disproportionate amount compared to any other region.
Northern Ireland is the only place in the world to which the US Administration has appointed an economic envoy.
And while Declan Kelly is fond of listing the investments made by US companies, and the assistance being offered at the highest political level, his key message in recent times has been one of self-help.
He surprised business leaders in Belfast in January when he effectively told them to stop complaining, that they had to make things happen themselves and that the window of opportunity where Northern Ireland could call upon special US attention would close within two years.
We examine this American investment here on the Politics Show this week and in an interview with Mr Kelly we focus more on the political actions that will allow the private sector to get moving.
'Pragmatism or populism'
Most economists here agree that the size of the public sector itself is a hindrance to private sector growth, yet none of the political parties have pledged themselves to reduce it.
In fact, the parties have been keen to avoid any compulsory redundancies in the public sector.
Meanwhile, as wages and earnings in the private sector are cut or frozen, civil service pay continues to climb due to an escalator that is not affected by the Executive's so-called "pay freeze".
This means the pay gap between the private and the public sector in Northern Ireland is widening, making it harder for private sector companies to find affordable, talented labour.
It also means that the public sector is likely to be getting less efficient - because although its budget is reducing, it is retaining staff regardless of need in order to avoid compulsory redundancies.
The other problem with the way the budget has been settled is that it does exactly what groups like NICVA (Northern Ireland Council for Voluntary Action) - whose voluntary organisations run a lot of public services - asked them not to do.
It's now feared that departments will begin cuts at the outermost edges first - by cutting funding to groups outside - while protecting departmental running costs.
This means many services - advice, childcare, social care - face real cuts. And workers face real redundancy. But because these agencies are in the voluntary sector they don't count as "public sector" redundancies.
In Sunday's programme we will be putting some of the tough choices to the politicians to see if pragmatism or populism rules the day.
Jim