McGurk's bar bombing families to lobby US politicians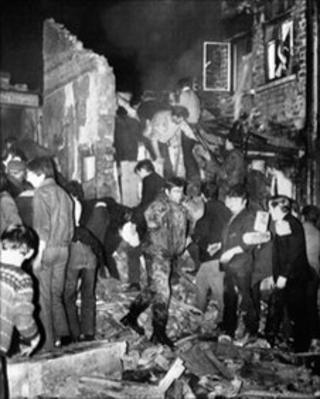 The grandson of a woman killed in the McGurk's bar bombing is visiting Washington this week to speak to US politicians about the 1971 atrocity.
Ciaran MacAirt, whose grandmother, Kitty Irvine, was one of the 15 people killed in the explosion, is part of a human rights group travelling to the US capital.
The families of the McGurk victims have said they are still unhappy with the findings of the recent Police Ombudsman's report into the bombing and the Chief Constable's response to it.
The report said police investigative bias led to the IRA being wrongly blamed for the pub bombing.
More than 16 others were injured in the Ulster Volunteer Force attack.
The security forces viewed the bombing as an IRA "own goal" - an accidental explosion - the 80-page report from Al Hutchinson said.
Mr Hutchinson stressed that the investigation was "not proportionate" to the magnitude of the attack and police failed to give "adequate consideration" to the possible involvement of loyalists.
Mr MacAirt said the families saw the visit as an opportunity to "open up an international front" in their search for answers.
"At the moment we have archives that are being withheld from us," he said.
"We are hoping to engage with the great and the good of the upper echelons of the American political elite so that they might be able to use some of their influence over the British and Northern Irish authorities to release that information to us.
"It's a battle we have fought now constitutionally and with great dignity for two generations and we will only stop when we have the full truth."
The families will be addressing the US Helsinki commission, which focuses on security and co-operation in Europe.