Attwood unveils plans for 200 homes in north Belfast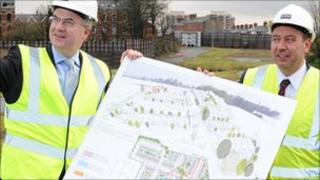 Social Development Minister Alex Attwood has unveiled plans for the building of 200 homes on the former Girdwood Army base in north Belfast.
Mr Attwood said the £20m investment would be one of the "biggest new social and affordable housing developments in NI in recent years".
He said Apex Procurement Group had produced designs and a proposed lay-out for the new homes.
In 2005, the government announced the former army base would close.
Former Social Development minister, Margaret Ritchie, had instructed the Housing Executive to appoint a housing association to begin working on the development.
Mr Attwood said on Monday that the plans were a "tremendous housing boost for the people of north Belfast".
"My predecessor has already announced a £38m investment to transform the quality of homes in north Belfast," he said.
"I am now adding quantity to that quality with 200 new social and affordable homes at the former military base at Girdwood.
"Windows and washing lines replacing watchtowers and sangers offers a much brighter future for everyone in the area."