Children moved away from site of Strabane shooting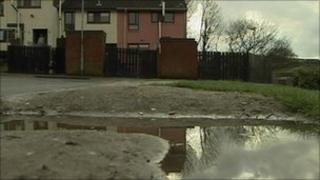 Children, some as young as 10, witnessed the aftermath of a shooting in Strabane on Sunday.
A man, believed to be 20 years old, is in a stable condition after he was shot in the legs in the Springhill Park area at about 2015 GMT.
Community worker Paul Gallagher said the victim had been taken into the estate in a car and shot twice in the legs.
"There were some kids around. They saw the young fellow lying on the ground."
"I got a call and went over to the estate and saw the young fellow with bullet wounds to the leg," he said.
"It was pouring with rain. Some of the neighbours came over and wrapped him in a blanket until the ambulance came."
Mr Gallagher said he also saw the man's father, who had been searching for his son, before finding him shot.
He said he believed that the shooting was carried out by the vigilante group, RAAD (Republican Action Against Drugs).
"From a community aspect I would like to say vigilantism won't work. It's never worked in the past and it won't work now.
"What we need to do is to is engage in some dialogue with these people to see if we can get this stopped."
The chairperson of Strabane District Council, Michaela Boyle, said she was "abhorred and disgusted" at what had happened.
"This boy was in pain. The very fact that he was taken to another area means there was fear in his mind about what was going to be the outcome of it," she said.
"It must have been terrible for this young man."
"The people behind these attacks need to come out and listen to the people of Strabane, and stop it now."
The police have appealed for information.