Northern Ireland ex-pats in Japan disaster zone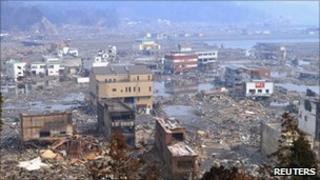 A County Antrim man and a teacher from Belfast have told how they lived through Japan's earthquake and the tsunami that followed.
Ballymena man Cartan McLaughlin, who has lived and worked in Japan for 20 years, was working on the Tokyo stock-trading floor when the quake struck.
He said it was "the most terrifying moment" of his life.
Mr McLaughlin and his wife have had to hide their three young children under a table during the aftershocks.
"With each tremor in Tokyo, we wonder is it going to be a major earthquake, because the city lies on the biggest fault line in Japan," he said.
"After we got the children under the table, our reaction was one of shock and a desperation. Over the last few days we have seen panic-buying, a couple of nuclear reactors on fire and you wonder about whether to leave the area or not."
Mr McLaughlin said he had not considered leaving the country altogether.
"I have my family here, we have a Japanese life, and I have 20 Japanese staff. For their managing director to just get up and leave would impact on them and it would be a sign that we weren't committed to this country. I wouldn't leave."
Peter McCann, an English teacher from Belfast, lives and works 87km from Fukushima, where there was an explosion at the nuclear power plant.
"When the earthquake actually happened I was teaching a lesson to two students and the building started to shake. That kind of thing happens from time to time anyway, but when we realised it was getting stronger and lasting for longer than usual we decided to get out of the building," he said.
"When we got outside we tried to run across the road to the carpark, but it was very hard to walk with the ground shaking."
'Massive effort'
Mr McCann and his friends left the city on Sunday due to the situation with the nuclear reactors in Fukushima.
"We're now an hour or two's drive away. We felt that if there was any possibility of radiation leaking, we'd be better safe than sorry. So now we're sleeping in our cars," he said.
Meanwhile, Belfast Cathedral's Barrel of Hope is to be used to raise funds for the victims of the tsunami and earthquake.
The Dean of St Anne's Cathedral, Rev Dr Houston McKelvey, said the Japanese disaster was of "a scale of devastation none of us alive today have even seen before".
"The consequences for life, livelihood and the people affected in Japan and elsewhere, are so immense that any comment seems most inadequate," he said.
"Despite having visited Sri Lanka after the Boxing Day tsunami, and been deeply affected by what I saw there, what has happened in Japan is on a much, much greater scale."
A collection barrel for Japan has been placed at the entrance to the cathedral.
Similar collections were held after the Boxing Day tsunami, and after the earthquake in Haiti last year.
"We intend to send a first donation of several thousand pounds later this week," said Dr McKelvey.
"We have been monitoring developments through our church and humanitarian relief contacts in the Archbishop of Canterbury's office and at Christian Aid. We know that a massive effort between governments will be required but that will take time. More immediate help is required."
The Barrel of Hope for Japan will be available in the Cathedral from 1000 GMT to 1600 GMT Mondays to Saturday, and on Sundays at services.