Coleraine student wins UK Young Scientist of the Year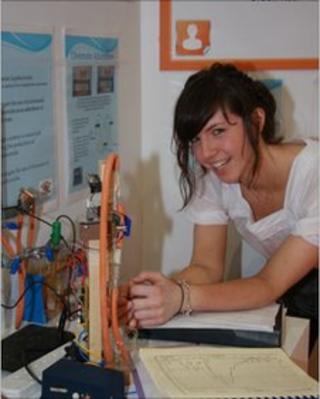 The UK Young Scientist of the Year award has been won by a young woman for the first time and she is from Northern Ireland.
Hannah Eastwood, 18, from Loreto College in Coleraine, explored how chromium could be removed from drinking water, allowing tap water to be purified and reclaimed for industry.
Professor Brian Cox, one of the judges for the National Science and Engineering Competition, said it was "wonderful to witness such enthusiasm and dedication" to science.
"It's left me hugely excited about the future of science in the UK, with passionate young scientists such as Hannah at the helm," he said.
Hannah said she was "thrilled" but still in shock.
"This is an unbelievable opportunity to be an ambassador for science and to inspire young people," she said.
The competition was open to 11 to 18-year-olds from across the UK.
Finalists showed off their projects at the Big Bang fair at the ExCeL centre in London.
Government chief scientific adviser Sir John Beddington said the next generation of scientists and engineers would play a "fundamental role in tackling the global challenges" of the 21st century.
"These include the issues of climate change and the management of essential natural resources, and dealing with the threats to our world from diseases, floods, volcanoes and earthquakes," he said.
"That's why this competition is so important - it inspires the scientists and engineers of tomorrow and is a great example of the exceptional young talent we have in the UK."